W piątek paczką z klasy zrobiliśmy sobie małą wycieczkę do Plastinarium. Obiekt jest położony nieopodal granicy Polsko-Niemieckiej więc na udaliśmy się na piechtę a przy okazji załapaliśmy się na promocyjne dni dla Polaków. Od 15 do 17 nasz naród wchodzi za darmo ;).
Parę słów o...
...o samym Plastinarium - jest to swego rodzaju "muzeum", w której mieści się wystawa anatomii KÖRPERWELTEN oraz szklana pracownia, w której można zobaczyć na żywo metody plastynacji np: ciała człowieka tj. balsamowanie ale o tym więcej później. Plastinarium jest miejscem, w którym spotykają się światy nauki, medycyny, oświaty medycznej oraz kultury wystawiennictwa muzealnego.
Muzeum mieści się w budynku starej fabryki sukna w niemieckiej miejscowości Guben. Powierzchnia całego budynku to ponad 2 500 m2, co sprawia, że na pełne zwiedzenie muzeum wraz z odsłuchem informacji o preparatach zajmuje ponad 2h - Tak z odsłuchem :) Przy wejściu dostaje się taki niby telefon, z którego po wciśnięciu odpowiedniego numeru można odsłuchać informację na temat danego obiektu, przy którym znajdujemy się aktualnie. Nie wspomniałem jeszcze chyba o tym, że większość preparatów są wykonane z ciał ludzi, którzy za życia zdecydowali o ich udostępnieniu po śmierci do celów badawczych oraz dydaktyki medycznej.
Szedłem tam ze sporym strachem i obrzydzeniem bo nie wyobrażałem sobie jak można oglądać takie rzeczy, ale jak tylko weszliśmy do środka całkowicie zmieniłem zdanie. Wystawa jest super, wszystko wygląda bardzo realistycznie. Dzięki odsłuchiwaniu informacji można się sporo nauczyć o ludzkim ciele. Specjalnie ustawione ciała pokazywały to czego normalnie nie widać czyli mięśnie, kości, narządy i tutaj spore wrażenie wywarł na mnie wielki żołądek goryla. Można też było zobaczyć scenę z filmu Casino Royale, w której trójka martwych gości gra sobie w karty i to właśnie z tego muzeum zostały wykupione plastynaty.
Po więcej informacji na temat technik plastynacji, ofiarowania swojego ciała ;D i dojazdu do tego muzeum odsyłam na polską stronę Plastinarium
Parę fotek: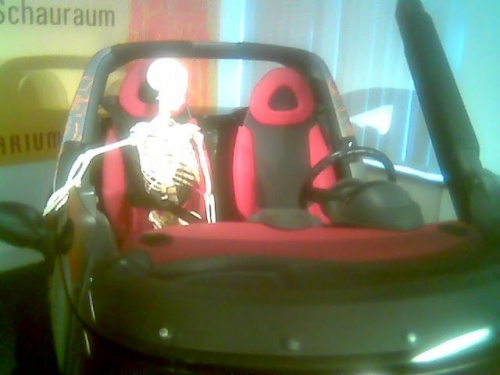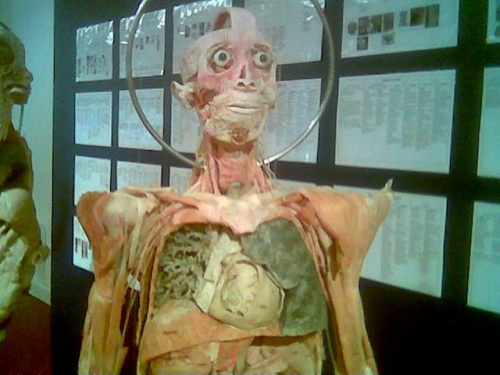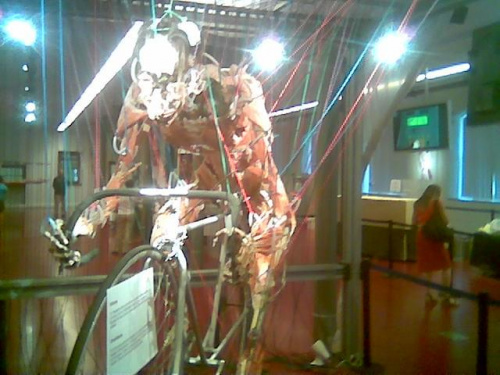 ±